Crafting & Implementing Your Standards of Care
As our industry has continued to become more commoditized, your standards of care remain one of the few ways left to truly differentiate yourself in the marketplace!
Many financial professionals struggle with developing their standards of care, delivering their standards of care or a combination of the two!
Sound familiar? You are not alone!
But, when you arrive at the place where you and your team are indeed consistently delivering that memorable ideal client experience, you enhance client loyalty, create scale and efficiency, decrease stress, and drive growth in the form of new introductions! 
This course will help achieve these outcomes and more!
Do any of these questions resonate with you? How about more than one?

1)     Do you struggle to articulate all that you offer to prospects and clients?
2)     Are you typically more random and reactive with your service rather than proactive?
3)     Do clients lack understanding of the totality of your value?
4)     Have your clients pigeon-holed you to one specific area of the industry?
5)     Do your prospects ever ask, "What should I expect if I choose to do business with you?"
6)     Do your clients really understand all that they are paying for?
7)     Do your clients measure you purely based on the performance of their portfolios or plan?
8)     Have you neglected upping your service standards for several years?
9)     Are you evolving from a pure investment or pure planning practice to a full-service financial practice?
10)  Do you fear that you look and sound like every other advisor in town?
If so, this course is for you! What you will receive:
Six sections including 18 videos and 5 downloadable tools.
Guidance to engage your team on brainstorming and finalizing all that you offer both from a wealth management perspective and a proactive service perspective.
A sample Client Experience Matrix with over 100 possible services for you to customize to fit the needs and expectations of your clients.
A defined process to specify which clients will receive which services.
Methodologies on how best to implement your standards-of-care with prospective clients, existing clients, and non-client COIs.
A sample marketing piece to give clients and prospective clients a better understanding of what to expect from you and your team.
Sample scripts to customize for your communication style.
A process to continue to evolve your standards-of-care over time as you move closer and closer to the practice you've always wanted.
Expert guidance and advice every step of the way from two veteran industry experts.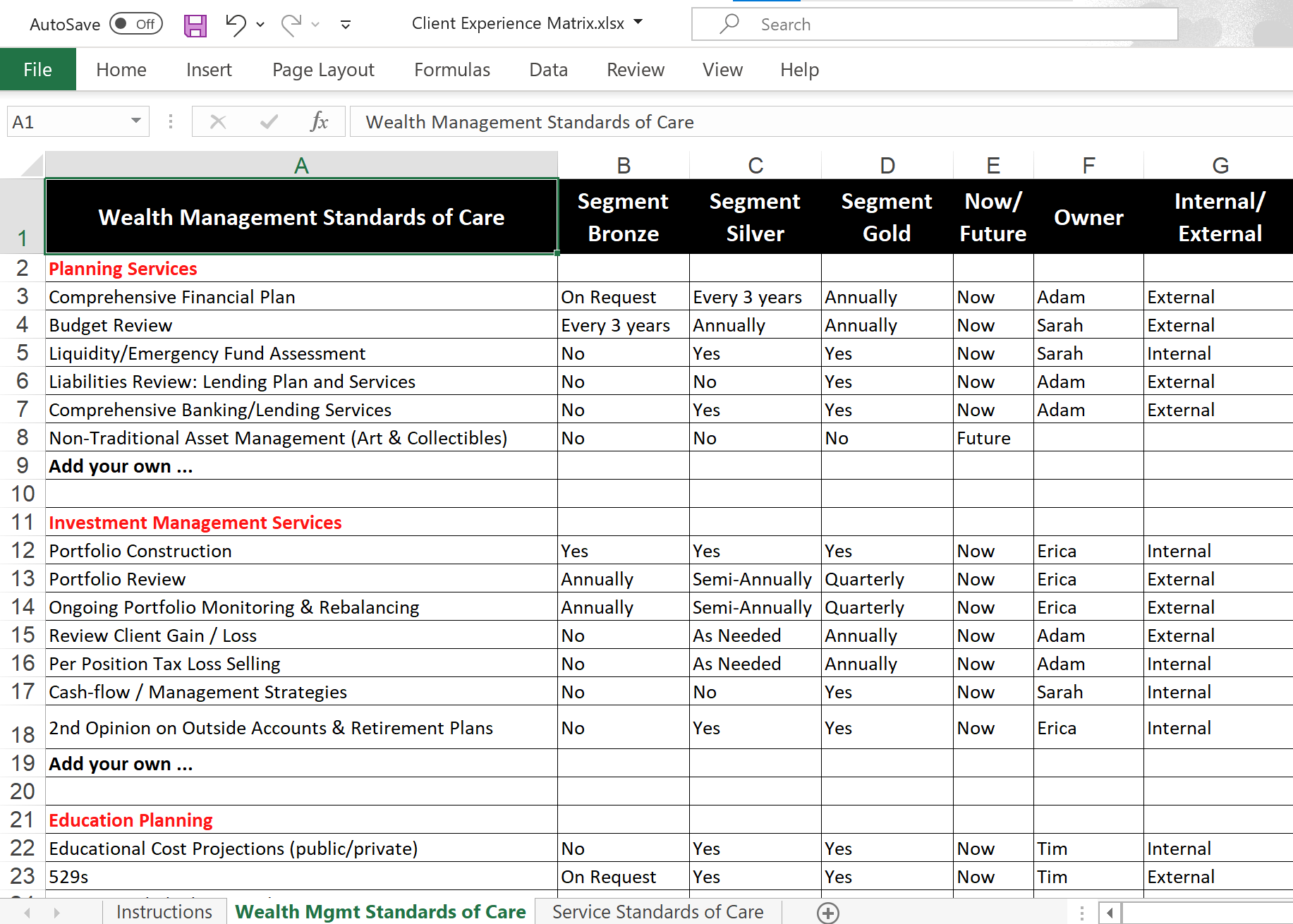 Client Experience Matrix
Our client experience matrix has over 100 different types of standards for you to consider and provide to your clients.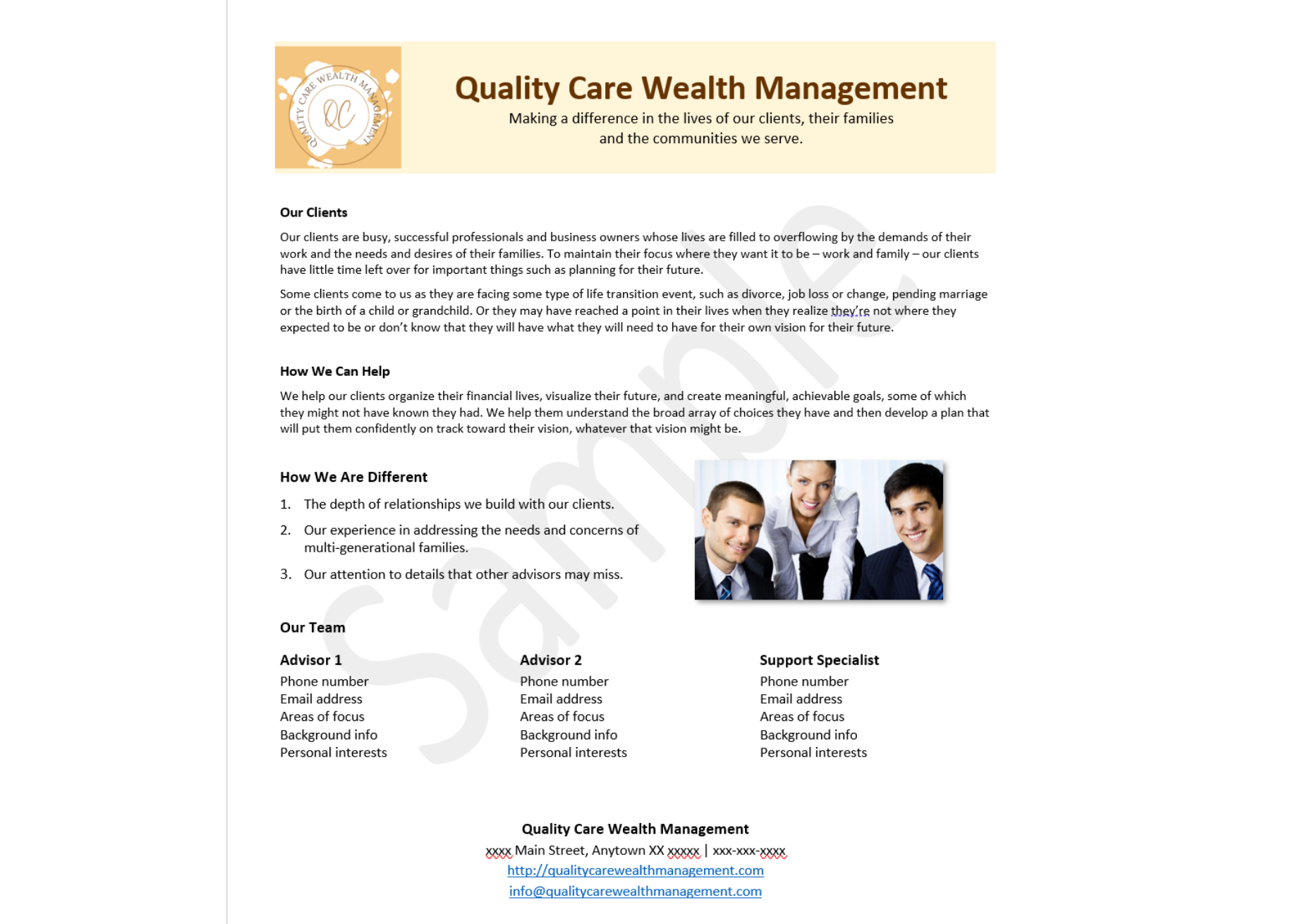 Marketing Sample
Your standards aren't just for internal use. You can share them with clients and prospective clients. Our marketing sample shows you how.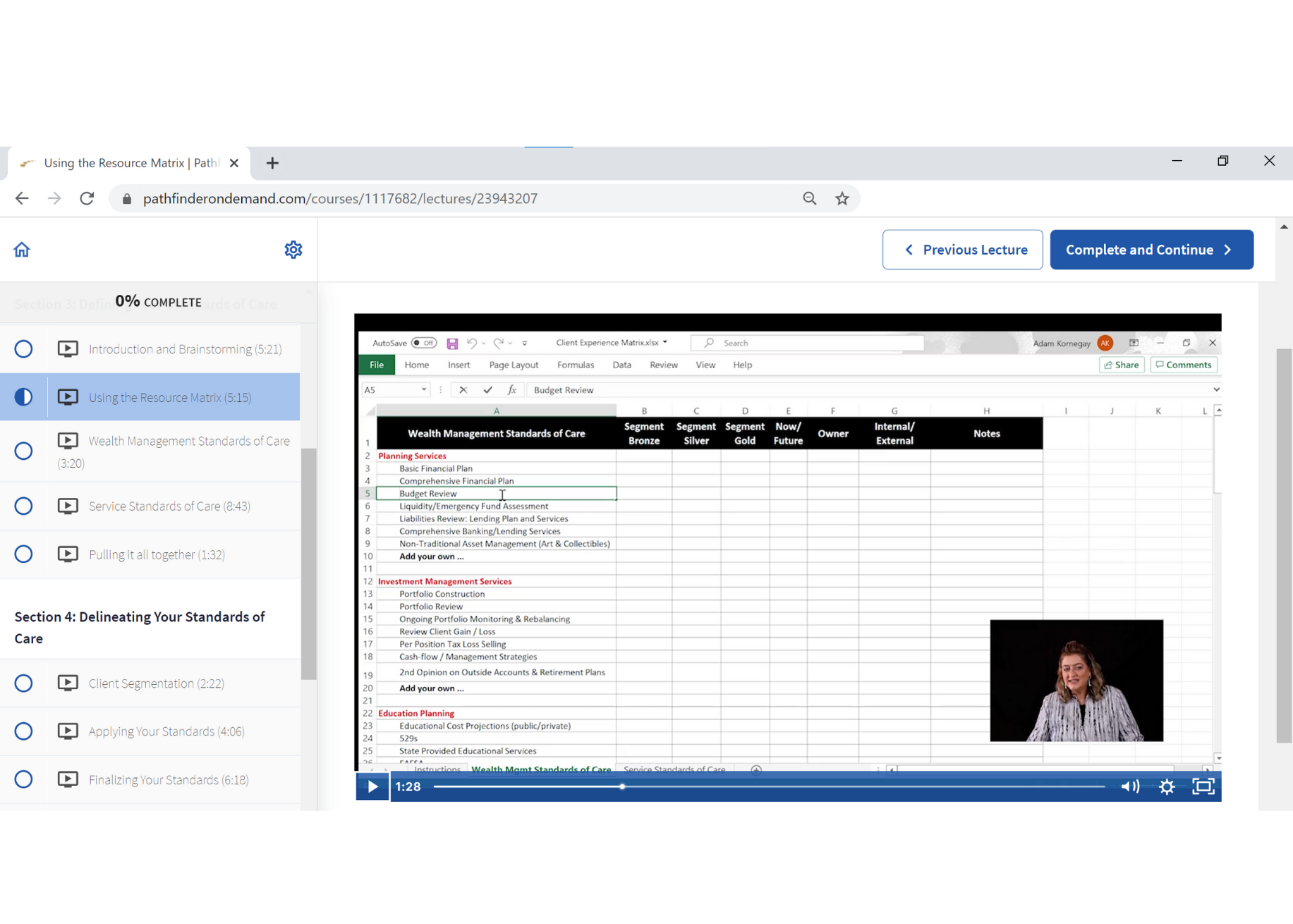 Simple Video Navigation
Over the course of 18 lessons, Adam and Sarah will lead you every step of the way to craft and implement your standards of care.
Who is this course for?
Whether you are a sole practitioner or part of a team of 20, this course is for you!
Some lead advisors prefer to drive the process themselves.
Some want the team to engage in each lesson together and embark on one section each week.
Still others prefer to empower a support member to own the course and facilitate the collaboration process through to recommendations where the senior advisor or team as a whole can make the final decisions on WHAT to offer and WHO should take ownership in each area.
Regardless, this course is applicable to all financial professionals in any stage of your career. Enjoy!
After enrolling, you will receive a special code that will provide up to three additional logins so you can share the course with other members of your team.
Can I see how it works?
Absolutely! The first section is complimentary. Just click the Preview button below!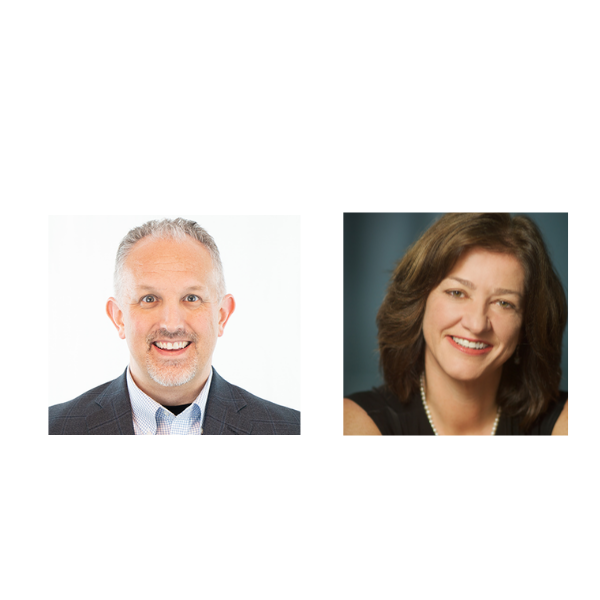 Adam Kornegay
Adam Kornegay is the co-founder of Pathfinder, a coaching & consulting practice based in Knoxville, TN. Learn more.
Sarah Dale
Sarah Dale is the founder of Know No Bounds and partner at Performance Insights. She is located in Williamsburg, VA. Learn more.